CURE 2
EN/LTF-C
Soar to new levels of performance: embrace your passion, heal your soul!
S
M
ML
L
LINEAR SCALING FACTOR
0.97
1
1.04
1.08
PROJECTED AREA (M²)
18.1
19.4
20.8
22.6
FLAT AREA (M²)
21.5
23
24.6
26.8
GLIDER WEIGHT (KG)
4.8
5
5.3
5.6
TOTAL LINE LENGTH (M)
234
250
268
292
HEIGHT (M)
7.2
7.5
7.7
8.1
NUMBER OF MAIN LINES (A/B/C)
3/4/3
CELLS
74
FLAT ASPECT RATIO
6.4
PROJECTED ASPECT RATIO
4.8
ROOT CHORD (M)
2.2
2.3
2.4
2.5
FLAT SPAN (M)
11.8
12.2
12.7
13.2
PROJECTED SPAN (M)
9.4
9.7
10
10.5
TRIM SPEED (KM/H)
39
TOP SPEED (KM/H)
60
MIN SINK (M/S)
1
BEST GLIDE
11
IDEAL WEIGHT RANGE (KG)
73-83
83-93
93-105
105-120
EN WEIGHT RANGE (KG)
65-85
75-95
85-107
98-122
CERTIFICATION
EN/LTF-C
INFO
For many pilots flying enables them to escape the hustle and bustle of everyday life, and get closer to nature. Flying is a form of meditation that can help heal you, and we have completely reformulated the CURE 2 to increase performance without increasing pilot stress. It has a brand new structure and a profile that's closer to the Diva. We've upped the cell count to 74, and kept the same projected aspect ratio but reduced the arc, which means the flat aspect ratio is lowered to 6.4. The CURE 2 has an impressive top speed of 60km/h, yet full-speed asymmetric collapses are incredibly calm. Designed to be flown fast, the CURE 2 has a new light and efficient B/C steering system too. We've kept weight down by using Skytex 27 and 32 cloth, with Skytex 38 on the top-surface leading edge for durability. When you fly the CURE 2 you will soar high to new levels of performance.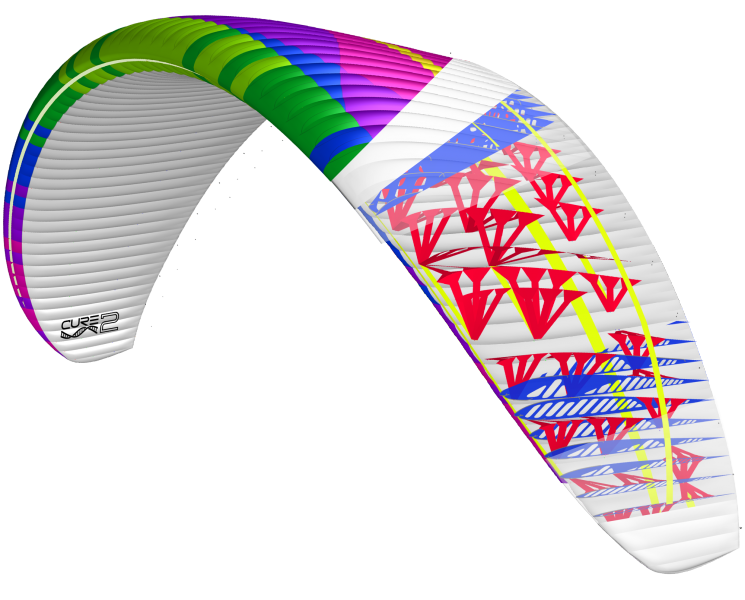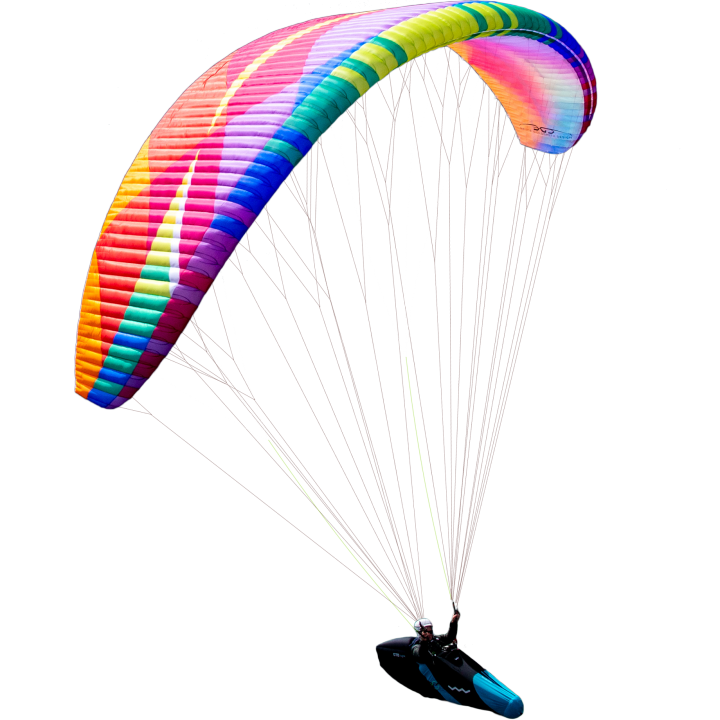 TECH
50M ITERATIONS FLUID/STRUCTURAL ANALYSIS
The future of glider design depends largely on simulations. Instead of designing and producing prototypes one by one, we can now accurately simulate hundreds of paragliders using our own unique structural/aero simulation program. In effect we are now able to test virtual prototypes using this program, and on our paragliders we make over 200 virtual prototypes and analysing these involved in total 50 million iterations of the structural/aero calculations.
MATERIAL
| | |
| --- | --- |
| TOP SURFACE | Porcher Skytex 32g/m², 38m² |
| BOTTOM SURFACE | Porcher Skytex 27g/m² |
| INTERNAL STRUCTURE | Porcher Skytex Hard 27, 32g/m² |
| NOSE REINFORCING | Plastic wire 2,4mm |
| RISERS | 13mm Kevlar/Nylon webbing |
| PULLEYS | Ronstan/Harken |
| TOP LINES | Edelrid 8000U |
| MIDDLE LINES | Edelrid 8000U |
| LOWER LINES | Edelrid 8000U |
| BRAKES | Liros DC |