TARGET
The ECHO is THE all-rounder in our range, created for just-out-of training newbies, avid hike-and-flyers, cross-country pilots, world travellers, soarers, vol-et -skiers, wagga/soaring dudes and vol-bivouacers. With a solid blend of performance and no-stress safety the pilot who loves every kind of paragliding will find one wing does it all with this little lightweight package. Stripped-down, open-minded, and dressed to impress, the ECHO will please every pilot it floats over!
BRUCE'S NOTES
Knowledge is power. To fly a wing well, I think it is important for a pilot to feel in control. Having an understanding of the air you are flying in is as important as the glider's own passive safety. I design all my wings to give a reassuring level of feedback, to empower pilots with a good understanding of the conditions. I call it progressive stability, and my wings incrementally react to the different levels of turbulence, providing essential feedback, so the pilot can stay well within their comfort zone. Shielding a pilot from turbulence might make them feel safer initially, but they can be blissfully unaware of the risks they might be taking when the air is becoming more turbulent.
Fly safely, fly confidently, fly with progressive safety and know the air around you.
Read more about Progressive Stability in Cross Country's article "Icaristics – Shifting our Thinking on Safety" in issue 176.
ECHO
EN/LTF-B
Bounce from one flying style to another, with an ECHO.
| | | | | |
| --- | --- | --- | --- | --- |
| 21 | 23 | 25 | 27 | 29 |
| XS | S | M | ML | L |
SPECS
XS
S
M
ML
L
LINEAR SCALING FACTOR
0.96
1
1.04
1.08
1.12
PROJECTED AREA (M²)
17.9
19.6
21.2
22.8
24.5
FLAT AREA (M²)
21
23
25
26.8
28.9
GLIDER WEIGHT (KG)
3.7
3.9
4.2
4.4
4.7
TOTAL LINE LENGTH (M)
210
230
250
268
289
HEIGHT (M)
6.7
7
7.3
7.5
7.8
NUMBER OF MAIN LINES (A/B/C)
3/4/3
CELLS
42
FLAT ASPECT RATIO
5
PROJECTED ASPECT RATIO
3.6
ROOT CHORD (M)
2.6
2.7
2.8
2.9
3
FLAT SPAN (M)
10.2
10.7
11.2
11.6
12
PROJECTED SPAN (M)
8
8.4
8.8
9.1
9.4
TRIM SPEED (KM/H)
38
TOP SPEED (KM/H)
50
MIN SINK (M/S)
1
BEST GLIDE
9
EN WEIGHT RANGE (KG)
50-65
60-80
75-95
90-110
105-125
CERTIFICATION
EN/LTF-B
As with the rest of the BGD range, the ECHO profits from Bruce's trademark sharp, easy handling. 3D CCB panel-shaping means a clean, high-performing aerofoil while lighter weight means less inertia, reduced shooting and increased roll stability.
Our strong shark nose adds stability to the leading edge at all speeds, and a silky-smooth Ronstan ball-bearing speed system keeps bar-action smooth on those long flights. The ECHO offers clear feedback with a relaxed feel in active air, and epic performance for its class!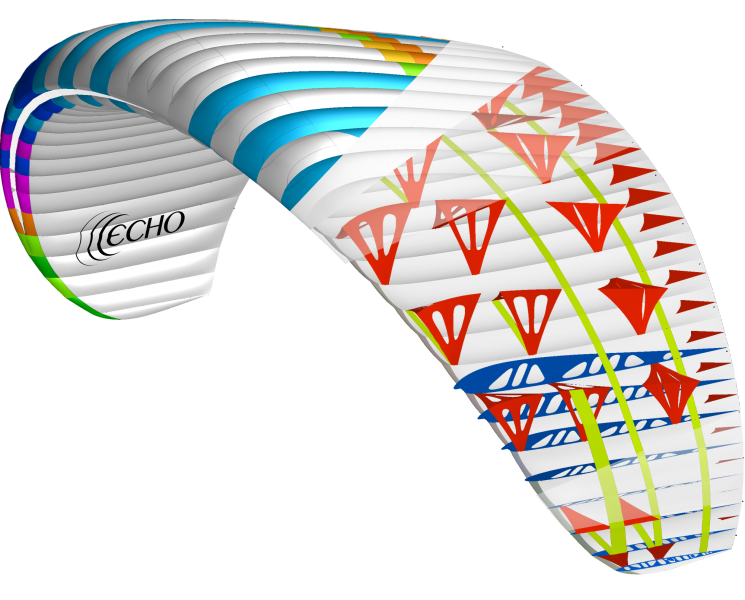 MATERIAL
| | |
| --- | --- |
| TOP SURFACE | Dominico D20 36g/m² |
| BOTTOM SURFACE | Porcher Skytex 27g/m² |
| INTERNAL STRUCTURE | Porcher Skytex Hard 32g/m² |
| NOSE REINFORCING | Plastic wire 2,4mm |
| PULLEYS | Ronstan/Harken |
| TOP LINES | Liros DC |
| MIDDLE LINES | Edelrid 8000U |
| LOWER LINES | Liros TSL |
| BRAKES | Liros DC |