INFO
We are on a mission to put taste, control, and attitude back into gliders. The PUNK is a modern-day rebellion towards bland, tasteless paragliders. This new-age wing is an explosion of feel, controllability, and fun. It is a matter of respect. The PUNK will speak the cold hard truth about the conditions, giving you eyes wide-open safety and performance.
End propaganda. Become enlightened. Make your own choices. Fly the uncensored PUNK.
PUNK
EN/LTF-B
Rebellious, fun, and enlightening, the PUNK tells you the truth about the air. Stay informed, make your own choices, fly the PUNK.
| | | | | |
| --- | --- | --- | --- | --- |
| 21 | 23 | 25 | 27 | 29 |
| XS | S | M | ML | L |
SPECS
XS
S
M
ML
L
LINEAR SCALING FACTOR
0.9
0.96
1
1.04
1.08
PROJECTED AREA (M²)
17.8
19.5
21.2
22.9
24.6
FLAT AREA (M²)
21
23
25
27
29
GLIDER WEIGHT (KG)
4.4
4.7
5.1
5.4
5.8
TOTAL LINE LENGTH (M)
204
224
243
262
282
HEIGHT (M)
6.7
7
7.3
7.6
7.8
NUMBER OF MAIN LINES (A/B/C)
3/4/3
CELLS
54
FLAT ASPECT RATIO
5.4
PROJECTED ASPECT RATIO
4.1
ROOT CHORD (M)
2.5
2.6
2.68
2.8
2.9
FLAT SPAN (M)
10.7
11.2
11.64
12.1
12.5
PROJECTED SPAN (M)
8.5
8.9
9.23
9.6
9.9
TRIM SPEED (KM/H)
39
TOP SPEED (KM/H)
55
MIN SINK (M/S)
1
BEST GLIDE
10.5
EN WEIGHT RANGE (KG)
50-65
60-80
75-95
88-108
100-125
CERTIFICATION
EN/LTF-B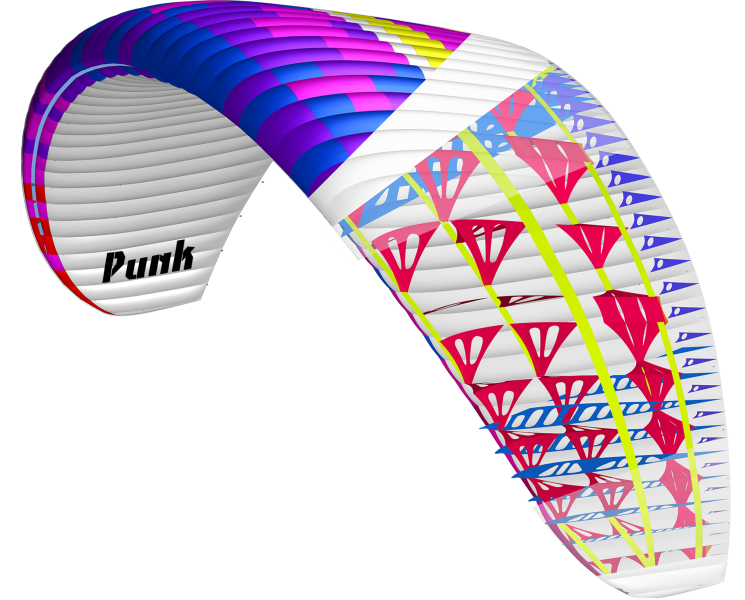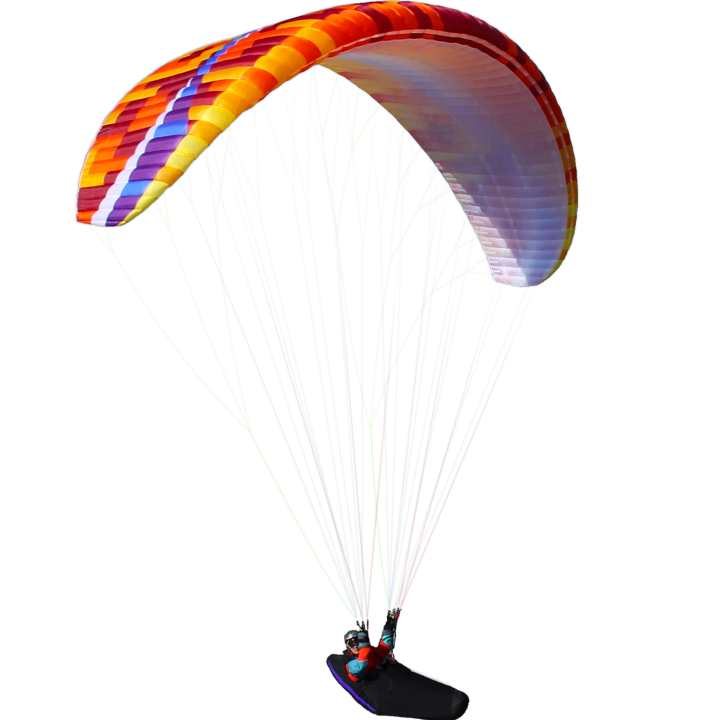 TECH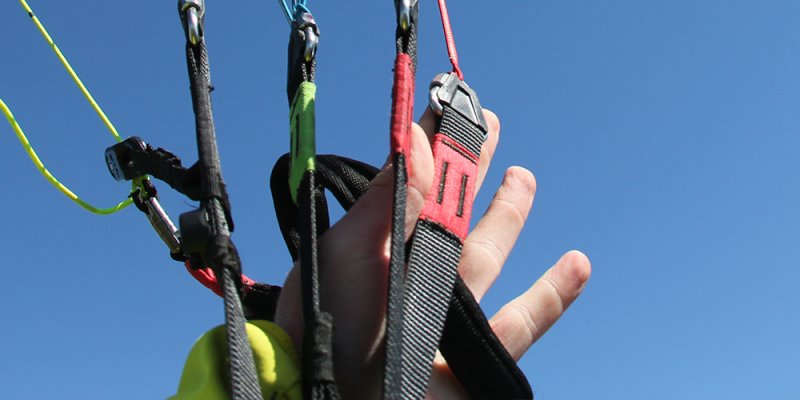 BABY A-RISER
We have added a 'big ears' A riser which is also on a ½ ratio with the rest of the A lines. This facilitates easy use of big ears while helping speed and stability while on bar. The speed system is light and simple without reflex really helping glide at speed.
TARGET
We are all punks. Our subculture has shocked the established order and constraints of society. We break the rules of nature, disregard the norms, and have a hell of a time doing it. The High-B PUNK was designed to sink deep into that rebellious part of your brain and enlighten you of reality. Are you a pilot that wants to know the truth? The PUNK will expose it.
The PUNK passed certification tests very easily, and even flown above the top of the weight range, glider safety is not affected. We have decided to extend the certified weight ranges in four sizes of this wing, so you can load it up and still be within certification. The ideal weight ranges are shown in the Specs table.
The extended certified ranges, available on four sizes of Punk, are XS=50-70, S=60-95, M=75-100, ML=88-113.
Extended weight ranges are there for insurance reasons. They enable pilots to fly above the ideal weight range and still fly insured. They should not be considered at all when choosing your correct glider size.
MATERIAL
| | |
| --- | --- |
| TOP SURFACE | Dominico D30 42g/m² |
| BOTTOM SURFACE | Porcher Ezzyfly 40g/m² |
| INTERNAL STRUCTURE | Porcher Skytex Hard 40g/m² |
| NOSE REINFORCING | Plastic wire 2,4mm |
| RISERS | 13mm Kevlar/Nylon webbing |
| PULLEYS | Harken/Sprenger |
| TOP LINES | Liros DC |
| MIDDLE LINES | Edelrid 8000U |
| LOWER LINES | Liros PPSL |
| BRAKES | Liros DC |